It has been 17 years since the attack on the World Trade Center. Our good friend and neighbor, Bruce Menzies, was working in Tower 1 at the time of the attack. He survived the attacks as so many others did not. He has written his memories of that day, contemporaneously to the attack, as well as the weeks immediately following. He begins with the first attack on the World Trade Center by the Islamic 'Blind Sheik' in 1993, when a bomb was exploded in the underground parking garage of the WTC. We present Bruce's chronicle, in his own words, here:
9/11/01 WTC EXPERIENCE
By
BRUCE MENZIES
Written: September 2001
BACKGROUND
I have been working for The Port Authority of NY & NY (PA) since 6/1/76. At the time of the attack, I was working on the 72nd Floor of 1 World Trade Center (WTC). During my 25 years at the WTC, I've worked on the 70th, 71st and 72nd floor. On 2/26/93, I was at the WTC during the terrorist bombing. At that time I had to evacuate the building. However, after that there was a building to go back to.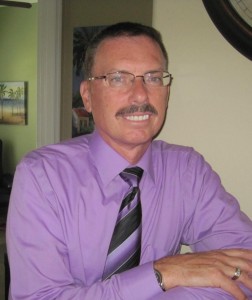 BEFORE THE HIT
It was a beautiful day; the sun was shining. I had arrived at the WTC at 7:30 AM, as I usually did. I had just e-mailed a friend who I hadn't heard from in a while, with a short note – "How are you?" – and I was finishing my coffee. The phone rang. It was a vendor who wanted to receive an RFP for the Tech Services Department. This is something that should have been out already, but was postponed. We were chatting, and I was taking down information about his firm.
8:46 – THE ATTACK
I was still working on the phone and I felt the building shake violently. I told the caller to hold on. The building, which was designed to sway when there is a major wind, shook like it had never shaken before. Not even during the bombing on 2/26/93 did the building move that much.
Fortunately, I was sitting, as it was easy to lose your balance. I walked to the entrance of my cubicle several feet away to see what was going on. At that point everyone was running towards the exit, and when I looked out the window all I could see was orange flames and pieces of debris falling.
Because of the movement of the building, I really felt that we were going to die at that point. My legs became shaky for a few seconds. It felt like the building was going to fall over.
THE LONG WALK DOWN
I immediately started the long walk down the stairs. One thing that I promised myself after the '93 bombing was that I would not forget everything like I did then. Thanking back, it is strange that I would think about something like the '93 terrorist attack happening again.
Well, again I left my briefcase, cell phone, keys, suit jacket, etc. Once I was in the staircase, I realized this, but decided not to go back – I had the feeling that time was not on my side. I also left the telephone off the hook. I felt guilty about that, too, but decided that I didn't have the time to go back.
At first the walk down the stairs went fairly quickly, and we were making good time. Before I knew it, I was down to the 58th floor. At that time, a lot of people were merging onto the staircase and it got more crowded, and the descent became a lot slower.
The fear of dying went away. Even though we were moving very slowly, the lights were on, there was little or no smoke and the people were calm. We were still under the impression that the building was hit accidentally by a plane.
Later on, someone got info on their palm pilot that the building was hit by a terrorist attack. People were quiet or spoke in whispers. When people were being carried down with blood all over them, reality did kick back in again that we were in a life or death situation.
Many times we were forced to walk in single file as Firemen came up, or when injured people were being brought down. Even though there were three staircases, they were all very narrow.
Around the 23rd floor, we were asked to switch staircases. I don't know why, but I guess that it was more open, etc. The further that we went down, the more Firemen we saw coming up, and the more smoke there was. The Firemen were exhausted. They had to periodically stop and rest. They asked some people to carry their equipment up a flight or two. The Firemen broke some vending machines to gain access to bottled water. They took some and gave some to others. Despite everything, the Firemen assured us that we would get out safely. Someone gave me a mask to wear to keep from breathing in the smoke.
Things were going slowly, but we were making progress. Since we were inside of the building we had no access to the news. Probably we were lucky, as we did not know how intense things were outside. One thing I remember being mentioned many times, especially after the bombing in 1993, was that the buildings were designed so that they would never come down. I met two people, John and Bernard, whom I had previously worked with in Technology Services Department (TSD).
TOWER TWO COMES DOWN
By 9:59 AM we made it down to the 4th floor. At that time Tower 2 came down. We heard a loud bang, and the pressure caused air to back up into our building. However, we did not know that Tower 2 fell; it just sounded like something bad had just occurred. The smoke was getting thicker and many of the lights were out. There was also a lot of water accumulating. It was cascading off of the staircase above, like a waterfall. So, now we were also in about three inches of water. There was a sound of an alarm going off, which wouldn't stop, and only made one's nerves more unsettled.
We were not moving. Someone said the floors below us collapsed and we could not go any further. Now what? For the second time that day I felt that we might not make it out alive.
Someone from above said that we should go back up and switch to another staircase. To go back even one flight was against my gut feeling, but since I couldn't go down, I followed the crowd. We walked up to the 7th floor and were met by Firemen who guided us with flashlights to another staircase. We then descended rather quickly down to the Mezzanine level of Tower 1.
LEAVING THE BUILDING
The Mezzanine level of the building was covered with dust, and it was hard to see much. We were guided outside past Building 6 (U.S. Customs). What was amazing was the amount of dust around and how dark it seemed outside. Firemen guided us under the eaves of Building 6. We had to step over debris. I recognized the debris as parts of the building.
I saw a tree on the Plaza just covered with a great amount of ash. It really looked like a bomb had hit. I still did not know that Tower 2 was down or that Tower 1 was about to come down within the next ten to fifteen minutes.
Continuing past Building 6, I walked past Building 7 (which came down by 5:30 PM) to the staircase exiting onto Vesey Street. We were told to keep on walking North and to get out of there.
OUT ON THE STREET
By almost 10:20 AM, I made it out onto the street. There was an eerie silence there. I saw a few people I knew, but they were off in separate directions to try to get home. I no longer saw the two TSD guys.
As soon as I was out on the street, some man came up to me with a microphone. He asked me if I was in the WTC, and I gave him a mini interview. Later I found that this interview was aired on Channel 5 (local New York TV station) many times. I did not see all of it, although many people did and felt comforted that I was OK even though they hadn't spoken with me.
On the street I met another guy (I wish I had written down his name) whom I had seen inside the WTC. We decided to stick together for a while since we were both a little dazed and tired.
TOWER ONE COMES DOWN
The two of us continued walking north. Within minutes we heard a loud sound like an earthquake. It was our tower coming down. Just to think that barely ten or fifteen minutes before we were in that building. If we were still inside we would be dead.
We ran, although the debris was not falling in our direction nor were we in any danger. It was unsettling to say the least.
A GOOD SAMARITAN
The two of us still continued to walk, and before long we came across another person. We were in the Tribeca section of N.Y.C. This guy had come out of his apartment and was looking down towards the WTC, amazed at what had happened. He spoke to us, and then we mentioned we had just come out of the building. He was amazed and offered to do anything he could for us.
We ended up going up to his apartment to use the bathroom, use the phone, and get settled. We turned on the news and saw footage of the building coming down. This had really hit home and was scary. The two of us from the WTC just sat and cried for a while.
The owner of the apartment lent us his phone and gave us something to drink. He couldn't really do any more for us. The only person I could reach by phone was my sister-in-law, Lynn. I told her I was alright and then got disconnected. I couldn't speak to any of my friends or family for many hours after that.
THE LONG TREK HOME
After we left the apartment, we went our separate ways. I started walking towards Penn Station. Walking through a park, people were eating, talking, walking, etc. My shoes and pants were still covered with soot. It felt odd to see so many people leading such a normal life when such a big event had happened.
The sun was shining again, and it was warm outside. No trains were running. Most people were leaving the city early because of the terrorist attack, but they were not directly involved.
Once I got into a conversation with someone, everyone wanted to know my story. I saw one man, Al, from the WTC who was dressed only in a hospital gown, carrying his clothes in a bag. He had gone to the hospital and was let out. Later on I found out that not only did he have to endure this ordeal but that his son was killed at the WTC.
I then met Chanchal, another worker from the WTC, who was not there at the time. The two of us walked across the street and had lunch, and spent some time together sitting and eating, rather than just standing on the street.
When we finished eating, we went to Penn Station, and trains were running. Al (a friend, not the Al mentioned before) called out my name. I couldn't believe he was there, and he couldn't believe he saw me just walking into Penn Station.
The train ride home was like one long interview. We did meet some nice people however, who were genuinely concerned. The train had problems, so the trip home took forever. We even pulled out of one station with the doors open. After surviving the WTC attack, I hoped that I wouldn't get killed by falling out of the Long Island Rail Road train. Luckily, Al had a spare key for my car, and I was able to drive my car home.
ONCE HOME
I arrived home at 5:45 PM. Once I got home I had many messages, and the phone rang twice. One call was from Sue and the other from Joan (both from my church). They told me that there was a service at our church (Grace UMC) about to start at 6:00 PM and that I should go. Most people from my church did not know if I was alive or dead. I told Al that we were going to church.
AT CHURCH
We walked into church as they were singing "Amazing Grace," which is a very moving hymn and one of my favorites. There were candles lit in front. Everyone was thrilled to see me, and I walked up front next to Pastor Dorothy and said a few words. I joked that since I had so many duties at Grace (Head Usher, Liturgist, Communion Server, etc.) that God still needed me to complete my duties and wouldn't let me leave my Earthly mission at Grace. Also, we joked that I wasn't getting out of my Head Usher job, no matter what. It was an evening of crying, joking, hugging, etc.
THE FOLLOWING DAYS
The next few days, I was deluged with phone calls. Everyone was well meaning and thoughtful. However, it was exhausting. I must have spent at least 8 hours a day on the phone. I did get out for a few moments to make some new keys and get a new cell phone.
A NEW WORK LOCATION
Now my new work location is in Jersey City, NJ. It takes 2 hours each way instead of 1 ½ hours to the WTC, where many of us are now crammed into one room. Hopefully, this will not be forever. (As of January 14th, 2002, I am now working in NYC – 23rd and Madison Ave.).
RETURN VISIT TO GROUND ZERO
We finally made the return visit to the WTC site on November 29, 2001, as a group from the Port Authority. It was a cold, damp, rainy, gloomy day, just appropriate for the mood. We went by bus to Liberty State Park. At the park we visited a memorial wall and had lunch.
We were taken then by bus to the ferry. The ferry took us to the dock at WTC. There is one building by the water occupied at the Financial Center. The rest of the buildings, the restaurants and stores along the waterfront are closed. The Winter Garden is damaged and unoccupied.
From there we walk over to the viewing platform, which is on the west side of West Street, just north of the South Bridge. The bridge is standing but closed.
Since it took more than two months to get to the site, there is not much to see. Most of the area is leveled, with a deep depression where the Plaza was and where they are still excavating. Only part of WTC 5 and WTC 6 are standing. There is a clear view from the World Finance Center to Century 21 on Church Street. You almost think you are somewhere else. I think it would have been more meaningful and dramatic if we had gone sooner and had seen part of the buildings. Maybe it was better this way?
*********************************
Three thousand people died when the World Trade Center was so viciously attacked on September 11, 2001. We thank the Lord that our good friend, Bruce, made it out alive to tell his very personal story of survival.
The United States should never forget that day and the people who perpetrated such an act of non-humanity.
************************************
This article, in whole and in part, is the property of the author. No part of this article may be reproduced or transmitted in any form or by any means, graphic, electronic, or mechanical, including but not limited to photocopying, recording, taping, or by any information storage retrieval system, without the permission in writing from the author. The scanning, uploading, and electric sharing of any part of this article without the permission of the publisher constitutes unlawful piracy and theft of the author's intellectual property. If you would like to use material from this article, prior permission must be obtained by contacting the publisher at admin@artleenovels.com.