Art Lee's fans have been waiting an entire year for his next book, and it is finally here! WAIT UNTIL THE DARK OF NIGHT is an exciting book that takes place in London, Switzerland, Amsterdam, Tenerife, and Africa. Joseph Cross, who helped Morgan Crew in A DEADLY LONDON FOG, is an American ex-patriot who owns a luxurious casino in London. He is high up in the criminal world of the UK, running smuggling operations and dealing in illegal diamonds.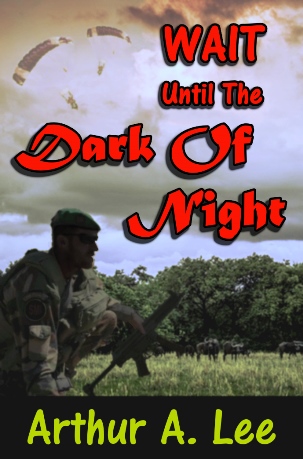 His worst enemy, a Member of Parliament, asks for his help to rescue her son, who, while doing mission work in Uganda, was kidnapped by an African warlord. He reluctantly accepts, thinking this may be a way to get the MP and the police off his back. And here is where the book gets exciting.
Cross reaches out to his criminal contacts in Switzerland and Amsterdam, then enlists the aid of a French mercenary group to back up his plan. He then ventures deep into Africa to find the MP's son, where he comes close to imprisonment and death time after time after time.
As you read this suspenseful story, you may wonder how Art Lee was able to capture so much detail about the characters and places that Joseph Cross experiences. I asked Art that very question, and here is his response:
"To begin, when one reads a novel and has never written one, the work and time that goes into the writing may not be understood. For me, it takes approximately one year to write a novel from beginning to end. I have an idea – mainly based on personal experiences from years in the past – and I roughly put the ideas to words without thinking of the details. Then I start the research phase, getting facts and details about locations and anything else that will help the reader experience what the character is experiencing.
"In my latest novel – WAIT UNTIL THE DARK OF NIGHT – the protagonist, Joseph Cross, appeared in a previous Morgan Crew Mystery, A DEADLY LONDON FOG. Joe Cross is an American ex-patriot living in London, England. He owns a fabulous and very private casino in the Soho district. He is also a smuggler and ruler of Europe's black market trade. Detailed research of present day London and the history of the Soho district was absolutely necessary to make the words accurately describe the area.
"The premise of the story takes Cross to Uganda in Central Africa. That fact took weeks of research about the Nation, its history, and its environment in order to paint an accurate picture of the locale Joseph Cross faced. The sights, the sounds, the smells, the weather, the animals, the terrain, and the small and remote tribal villages are all vital to make the picture accurate.
"Long ago, I lived in London for many years and from there traveled to Switzerland, France, Holland, other European Countries, and to Africa, and I distinctly remember the character and ambiance of each Country. Those memories and the facts that I gathered together helped me to paint a realistic picture of each locale in this story.
"And then there is "the bad guy." In this novel Cross must defeat a petty warlord named Simba Azubuike. That character was modeled after Idi Amin, an absolutely insane and cruel former ruler of Uganda. And once again, detailed research of Idi Amin was necessary to get the character right.
"This novel is centered on the Blood Diamond trade. Weeks of detailed research were necessary to understand the trade and its history. 'Boy Soldiers' and modern day slavery were a part of this story. More detailed research on those subjects was necessary to get the details right and to paint a real picture with words.
"I hope you will find this story exciting and find it drawing you into the bravery shown by Joseph Cross as he faces violent death more than once. And I hope you will appreciate the time and effort that went into making this novel real and the pictures painted with the words realistic."
Art Lee