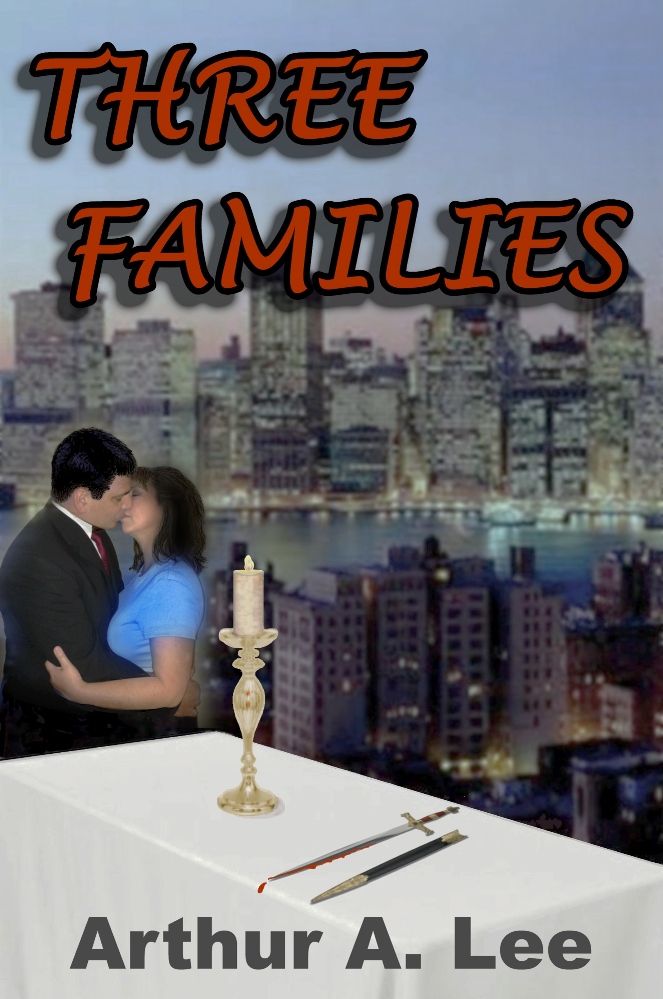 Editions:
eBook

:

$ 3.99

ISBN:

978-0-9895073-1-8

Pages:

456
Paperback

:

$ 13.99

ISBN:

978-0-615-84868-6

Size:

6.00

x

9.00

in

Pages:

456
Three Families - Book One of the Art Lee Mystery and Adventure Series.  A Love Story within the Mafia.
"Three Families" is the suspenseful story of a handsome, tough, Italian teen, Tony Moretti, whose goal is to work his way up through the local Mafia in Northern New Jersey.  He begins his climb, and in the midst of the crime and killings, he falls in love with Teresa Falzone, the daughter of a Mafia Boss.  The passionate love affair must be kept secret to protect them both from deadly consequences.
As Teresa faces the brutality of an angry father, Tony forges a deadly path to try to make their love possible.  He encounters the lust for power and money among three levels of the Mafia Family and the will to kill anyone who gets in the way.  Will Tony and Teresa ever be able to be together, or will they both perish in the fight?
The mystery, suspense and surprises of this thrilling novel will keep you turning page after page to see what happens next.  The details of Mafia life and the crime family members in the 1950's and 1960's are surprisingly real in this crime thriller and are based on the author's own observations and experiences while growing up in a rough area of New Jersey.
In the "Mystery and Adventure Series," Lee explores the psyche of men who live in the world of crime.  These men, like Joseph Cross in "Wait Until The Dark Of Night" and Tony Moretti in "Three Families," do not run from danger; they run towards it without hesitation, relishing the fear and the rush that a near death experience provides.  This results in a constant sense of suspense and intrigue for the reader, who has to wonder what will happen on the next page.
Published:
July 13, 2013
Publisher:
Silver Cat Press
Editors:
Cover Artists:
Genres:
Reviews:
Wisdom Seeker

on

Amazon

wrote:
Saga of a Mafia Genius

This novel, which I received as a gift, is an entertaining departure from the author's Morgan Crew mystery series. Although Three Families isn't a mystery, it has plot twists that the most avid mystery readers will have a hard time predicting.

Tony, the hero of this saga, is extremely clever even in his teen years. In the face of threatening situations, dysfunctional family members, and personal setbacks, he manages to keep his wits about him and stay one step ahead of a terrible demise throughout his action-packed life.

Some people might think he is unrealistically smart for his age, but there are geniuses in every field of endeavor, and I was not put off by his intelligence and shrewdness just because he comes from a poor neighborhood. In any case, if you don't insist on taking everything too literally, this is a fun easy read.

****
Anonymous

on

Barnes and Noble

wrote:
This book was so good I read it twice. It's another great Arthur Lee novel, just not a Morgan Crew Mystery. The characters are so real and colorful. The romance will grab your heart, and the suspense has you yelling, "No, don't do that - you'll get killed!" This is a must read for all the Morgan Crew fans.

*****