Mystery writer Arthur (he prefers Art) Lee recently departed from his popular Morgan Crew Mystery Series to write a novel that was close to his heart – Three Families – a gripping and suspenseful love story of two teens living within the New Jersey Mafia. This intriguing and suspenseful novel has become one of his top sellers in paper back books, available through Amazon.com. I wanted to go behind the scenes to find out how and why he wrote an epic novel totally different from Morgan Crew. Here is the interview, which took place today: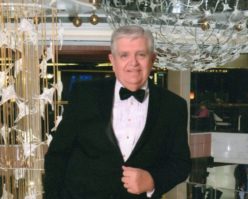 QUESTION: Thank you for speaking with me today. To start off, I would like to ask you – what brought you to become an author?
Art: My working background has been as a criminal investigator. I was assigned to the U.S. Air Force's Office of Special Investigation in the 1960's. I worked as a Civil Investigator for the Santa Barbara (California) County Government. Most of my working life has been as a Licensed Private Investigator. I worked my way up in the business to own my own Agency in which I specialized in Criminal Cases and Missing Persons, as well as many major fraudulent insurance claims. During that time I had a contract with the Federal Drug Enforcement Administration, working undercover for that agency. I am now retired and I have the time to put to paper all the experiences I have had. All my experiences have become part of the novels I write.
QUESTION: How long have you been writing then?
Art: I started writing fiction over fifteen years ago and published my first mystery novel in 2001 with a publisher that did little for me and went out of business quickly. I've written and published eight other mysteries since then, and I have been publishing through Leeward Publishers since 2010.
QUESTION: You recently wrote and published your first non-Morgan Crew Mystery novel, Three Families. How did you come to write Three Families? What made you do it?
Art: This book was truly a catharsis to me. I was able to put to words, finally, many feelings from my teenage years that I had bottled up for more than fifty years. Each of the characters in this book are based on real people I grew up with. Each of the events I wrote about are based on real events that happened where and when I grew up. I was raised in Northern New Jersey through the fifties and into the sixties. At that time the area I grew up in – Clifton, Passaic and Patterson – were in the territory controlled by the remnants of the Charles 'Lucky' Luciano Mafia Family since the 1930's. And then the Genovese Family took it over in the late 1940's. My neighborhood was – to be as kind as possible – a lower middle class neighborhood of blue collar workers.
QUESTION: It sounds like your early years were pretty dangerous. How did you protect yourself?
Art: As a pre-teen it was not unusual that my nickel that I was supposed to use to buy milk at school was taken from me by gangs of older children. I was beaten up regularly. A friend of mine (whose name I will not reveal here to keep his privacy) suffered the same attacks. He and I started walking to school together and found that two of us could put up a better fight than either of us alone. Soon other kids of our own age joined us, and when we were thirteen we founded our own street gang. The attacks stopped. Rather than taking nickels from children smaller than us, we started selling protection to the local stores, shops, and landlords. We kept the gangs from Patterson and Passaic out of our neighborhood and gang crime went down.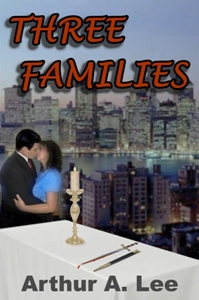 QUESTION: Where are your friends now?
Art: I really don't know. I have lost contact with them. I got out of that part of town as soon as I could. I imagine they each either left for better lives somewhere else or they are dead or in jail right now.
QUESTION: The relationship between Teresa and Tony seems so real and so deep. Did you actually experience a similar romantic affair as a teen?
Art: Yes, but as Tony said in the novel "A gentleman doesn't talk about the woman in his life." So that is all I will say.
QUESTION: I have read Three Families, and it is a truly amazing story. Are you working on your next book now?
Art: Yes, I finished a Morgan Crew Mystery – The Hawaiian Island Murders – which has been published and is becoming very popular with readers. I am currently working on a new novel outside of The Morgan Crew Series. Early on I wrote a book titled "An Angry London Fog." In the book I introduced a new character, a character I like to call "The Good Bad Guy." Joseph Cross is an American ex-patriot living in London. He is a smuggler and owner of a grand Casino in London's Soho District. This new book takes him to Southern Uganda in an effort to help people terrorized by a warlord who keeps slaves to dig for 'blood diamonds'. A big part of this story concerns a group of mercenaries Joseph Cross hires.
QUESTION: Is your new book also based on personal experience?
Art: When I was in my twenties I lived for a number of years in London. I was recruited by a shadowy American Intelligence Agent to run guns into Africa to a mercenary group. I suspect that group was financed by the U.S. Government, although I have no proof of that. On one of the trips to Africa, I stayed with the mercenaries, a group of French, German, and British soldiers, and fought several battles with them against Cubans who were training Africans as insurgents and terrorists. I left Africa and I never went back there again.
QUESTION: What plans do you have for your writing future?
Art: Morgan and Sandy Crew will continue to travel the world to help others and overcome all the dangers they face. The Morgan Crew Mystery series is very popular, and I don't want to let it drop. If Joseph Cross survives his African mission, there may be a sequel to his story. We'll see.
QUESTION: I have to ask, where was that great picture of you taken?
Art: When I'm not writing, I'm traveling, and that picture was taken on a recent Caribbean cruise.
QUESTION: Thank you for your time and for all the revealing facts about your life. It was a pleasure meeting with you today.