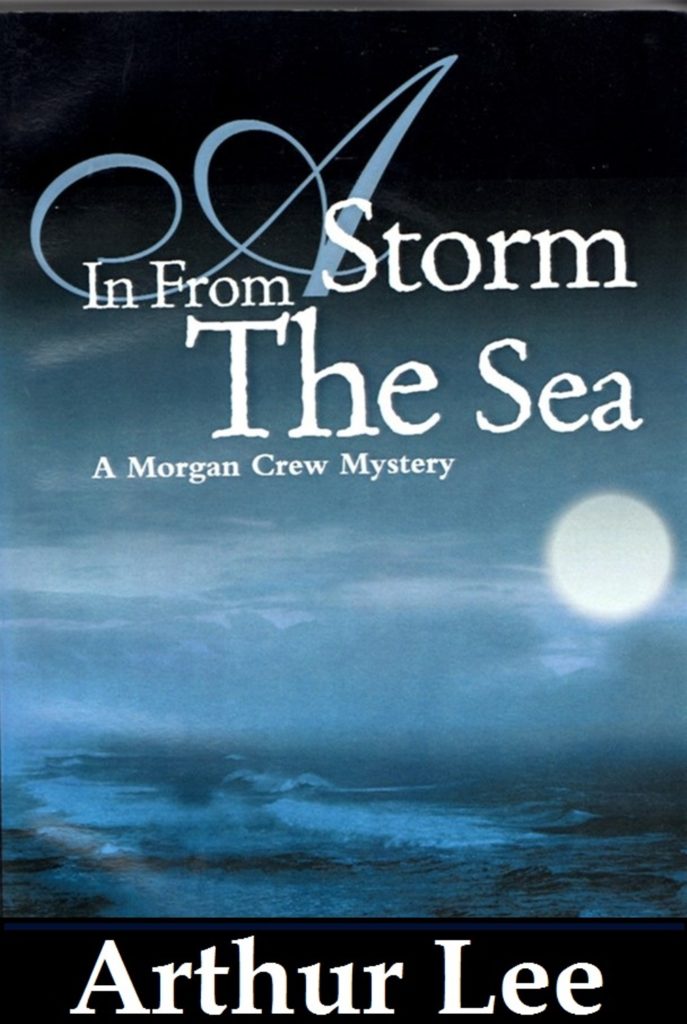 Editions:
eBook

:

$ 0.99

ISBN:

978-0-9828617-1-4

Pages:

300
Paperback

:

$ 10.99

ISBN:

978-0615807188

Size:

6.00

x

9.00

in

Pages:

328
A Storm In From The Sea - Book One of the Morgan Crew Murder Mystery Series by Author and Investigator Art Lee.
Morgan Crew's quiet, peaceful and isolated seaside home of San Marcos, California is suddenly overtaken with murder, mystery, and danger, when criminals invade the quiet little town like a storm in from the sea.
Morgan is enlisted in spite of his fears and trepidation to save friends and even people he barely knows. He meets a woman and falls in love with her, only to see her dragged down into the whirlpool of peril stirred by vicious sociopaths and organized criminals who have found Morgan's town a good place to do business. Follow along as Morgan risks his own life and freedom to save those around him.
Published:
August 15, 2017
Publisher:
Silver Cat Press
Editors:
Cover Artists:
Genres:
Reviews:
Guest

on

Barnes and Noble

wrote:
Excellent Thriller/Mystery

Arthur Lee's background in investigation work has given him the tools to write an intense and gripping novel. I couldn't put it down!

*****
Guest

on

Barnes and Noble

wrote:
Arthur Lee and Morgan Crew are names you'll be hearing more and more!

Arthur Lee's ability to paint a scene in the reader's imagination is excellent! It's easy to visualize this work on the big screen. Best of all, the Author's expansive character development makes you feel you've probably met some of the characters before. It's refreshing that his characters aren't perfect, they have human faults and weaknesses that makes them all the more realistic and sometimes unsettling. I enjoyed this book tremendously from early on. It's a fast read; there's a point at which you won't want to put it down!

****
gee13PJ

on

Barnes and Noble

wrote:
This was actually a good read for me. This is my first time out

This was actually a good read for me. This is my first time out with this author and I can say it wasn't bad. It was not a page turner for me. The book is over 800 pages and a group of people
that you have to keep up with. But for the main character to not be in law enforcement he does a lot.. But with the book being that long you do get some chapters that drag a bit. But all in all a pretty good read.

****
Guest

on

Barnes and Noble

wrote:
Great Book Top Ten List

On of the best reads of all time........ A must read for all

*****
Anonymous

on

Barnes and Noble

wrote:
Great main character

Good story very involved

*****
Anonymous

on

Barnes and Noble

wrote:
Love each of the Morgan Crew books. Sure wish Arthur Lee would write more.

*****
ELAINE R PAIGE

on

Amazon

wrote:
i recommend this book to other mystery lovers

I really enjoyed reading this book

*****
joni

on

Amazon

wrote:
Wild Adventure in Little Coastal Town

Lengthy mystery that keeps you guessing. So many pieces to a puzzle, all came together at the end. I found the cast to seem real & enjoyed the adventure each unraveled. Salty Sea Twisted Tale.

*****